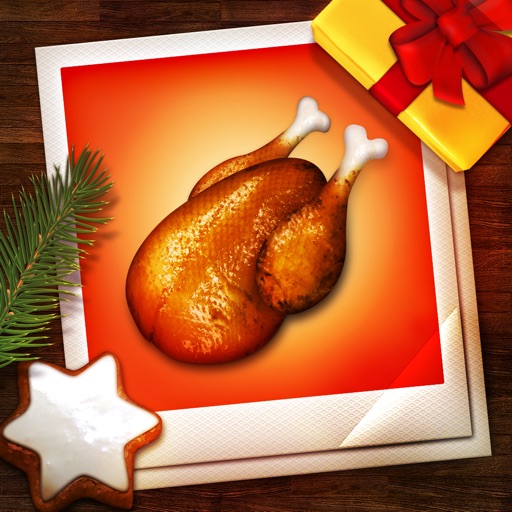 The Photo Cookbook – Christmas
開発: ditter.projektagentur GmbH
価格:480JPY
バージョン:1.0
2014-11-20リリース
アプリ詳細
You will delight your guests during the season of Advent and Christmas with the fine appetisers, festive main dishes, refined desserts and fragrant Christmas biscuits in this Photo Cookbook.

Put together your own Christmas dinner menu from recipes taken from the first three chapters: "Starters and Soups", "Fine Main Dishes" and "Tempting Sweets". In the fourth chapter, "Christmas Baking", you will also find a large selection of delicious biscuits, stollen, strudels and wreath cakes. From a single overview page, you can scroll down each chapter, so you can effortlessly see which recipes you want to prepare based on photos of the finished dishes.

A certain focus of the app is on German Christmas specialties, like e. g. Roast Goose with Chestnut Stuffing, "Frankfurter Kranz" Crown Cake or Christmas Stollen.

All 60 dishes are illustrated with beautiful step-by-step photos. Each recipe begins with a picture showing all the ingredients you'll use. That way, you can check at a glance whether you have all the ingredients for the dish on hand.

The brief preparation instructions are clearly written and easy to understand. Together with the illustrations, they help beginners and advanced chefs alike to keep track of the action without missing a detail. Each recipe is topped off with a picture of the completed dish, ready to serve.

The app is like a private, in-home cooking course, taught by an experienced chef who explains how to cook each dish.

Features at a glance:
- 60 cooking and baking recipes for Christmas
- More than 500 high-resolution photos that make the most of the Retina display.
- All recipes are shown in professional step-by step photos.
- Nutritional information for all recipes
- By tapping on ingredients you can find interesting, relevant information
- Search by recipe titles and ingredients
- Ingredient lists can be e-mailed.
- Bookmark your favourite recipes.
- You can add your own notes to recipes, too.

The app continues the concept of "The Photo Cookbook – Quick & Easy," a worldwide hit.