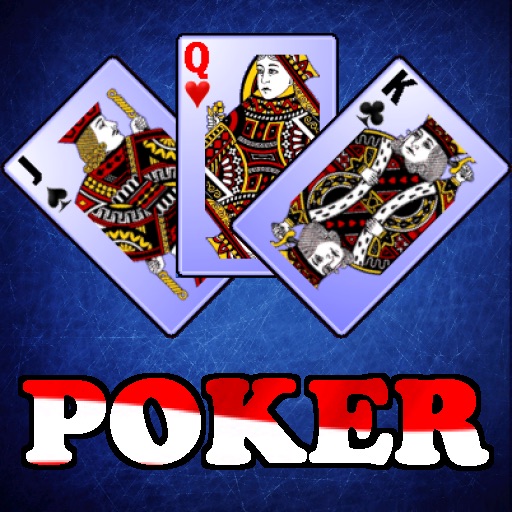 アプリ詳細
PLEASE NOTE THAT VERSION 1.3 WILL RESET ALL SCORES TO ZERO, AS THERE WILL BE A NEW SCOREBOARD OF UPTO 500 PEOPLE.
---------------------------------------
With the latest version 1.3, Poker is now better than ever.
Reviewed by independant premier magazine, and scored an impressive 4.5/5
Want to read about it? Just visit this link.

http://www.theappleclan.com/game-review-joes-american-poker-hit-the-jackpot-without-spending-a-penny/

Don't spend a dime anymore in the Poker Machines.
**************************************
Reached the Top 3 spot in Germany.
Reached the Top 5 spot in Austria.
Included in the Apple What's Hot Section
Included in the New & Noteworthy Section
**************************************

Join the thousands of other players that have already joined this classic Poker game. Joes American Poker is growing by the day. Don't miss out and get it right now.
This is no ordinary boring Poker. It's the fastest and most simple poker you can play but it is also the most addictive and enjoyable.
No longer do you need to spend hours to actually see some benefits on Poker.
It's simple, great and just a lot of fun.

Not sure? Theres a Free version too, (Joes American Poker Free) so try before you buy.
Hungry for more? Try out Joes Poker HD. The same game but exclusively for your iPad.

This game needs little to no introduction.
The most popular, easiest game has arrived for your iPhone / iPod / iPad.
Get ready for hours and hours of enjoyment with this classic 'American Poker' game.
It is based on the all time favourite Poker slot machine. It plays just like the real thing and even better.

Are you tired of losing your cash in the real slot machine, but yet, you really enjoy playing this simple but very addictive poker game. Well now is your chance to spend all the time you want playing this entertaining app. Buy once, play forever.

How many times are we just relaxing at home after a hard days work, or waiting for the bus, train etc. Minutes can seem hours. Well worry no more, from now on you won't mind waiting for the bus as soon as you bring out and launch this Poker App. It's amazing on how easy it is to pick up and play. You will be enjoying this game from the first minute you run it. It's incredible on how such a simple game can have you hooked for hours and hours.
Just make sure you don't miss the bus when playing :)

Features:
- Enhanced graphics
- Play in Bets 1-50 just like the real thing
- Real sounds
- 3 different view modes
- Classic mode: Play with the same color and settings, just like playing the real thing (my personal favourite)
- Mode 1: An improved version with nice colourful text, borders and shading (for the boys)
- Mode 2: An improved version with nice colourful text, borders and shading (never forget the girls)
- No annoying Ads
- No random prompts

- All your favourite winning combos, Listed from highest to lowest points.
'5 of a kind'
'Royal Flush'
'Straight Flush'
'4 of a kind'
'Full House'
'Flush'
'Straight'
'3 of a kind'
'2 Pair'
'Jacks or Better' (Mini Bonus)

- Ability to 'Double Up' your winnings using the popular 'Red / Black' gamble feature. Be Warned! Highly Addictive!
- Top 500 World Online Scores.
- Automatic save feature so you don't have to start from zero every time you play.

Control:
Control could not be more simple, just press the deal button to start.
Touch cards to Hold/Release them accordingly.
Raise your bets to play at a higher stake.

More information in the in-game extensive 'Help Menu'.

Just remember that once you buy it you will no longer have to spend any more of your valuable cash on the real slot machines.
What are you waiting for, grab your idevice get the best, fastest most addicting poker game and become Poker's Best Player.