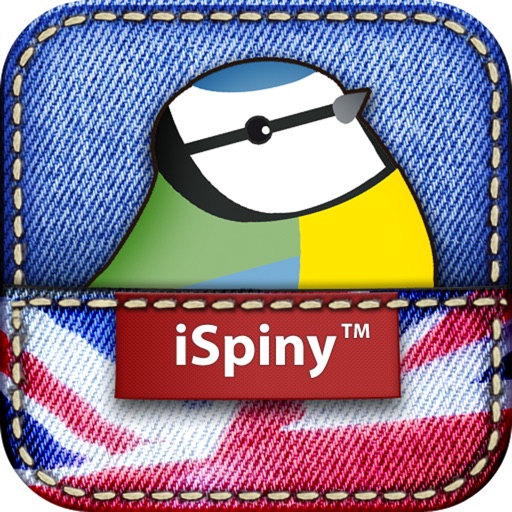 Birds of Britain: A Pocket Guide from iSpiny
価格:360JPY
バージョン:2.1.4
2011-03-02リリース
アプリ詳細
* From the makers of 'Chirp!' Bird Songs - check out the App Bundle! *

Our apps are British-made, by British naturalists - we know our stuff! Fantastic photos, songs, calls, distribution maps and detailed information for 199 birds - all the common and best known birds in Britain arranged by family or alphabetically. The specially written bird notes cover the appearance, habitat, diet, lifespan, nesting habits, rarity status, and distribution in Britain, as well as interesting facts.

The photo-based Bird Finder will quickly identify a mystery bird, then you can mark it as seen, add your own photos, and make a note about it. Automatically note the current date, time, latitude, longitude and Grid Reference. Share the news with your friends straight away with the built-in Facebook and Twitter links. The app includes iCloud syncing, so that if you have more than one device (iPhone, iPod or iPad) your sightings will automatically synchronise.

iSpiny promise: No in-app purchase, no hidden extra charges! We update our apps regularly with new features but we will never ask you to pay for them. All the features listed here are included in the app for no extra cost.

"I don't say this often, but you guys should charge more for this neat little piece of work! I almost feel guilty now, for the price!" - AppStore reviewer

Great features! This is the ONLY budget British bird app with the following features:
• A photo-based BIRD FINDER based on appearance, habitat, location, date and more
• Carefully selected photos of MALES, FEMALES and JUVENILES, to show the main features
• Labelled photos of KEY FEATURES
• A COMPARE IMAGES feature
• A SONG or CALL for EVERY BIRD
• A HISTORY feature to make it easy to go back to the last bird you looked at
• Select the birds for the area WHERE YOU LIVE
• European distribution maps for EVERY BIRD
• A BACK-UP system so you can save your data
• iCLOUD syncing to synchronise your sightings across your devices

Want more? For the full works, look for iSpiny's Birds of Britain Pro: A Field Guide - the most complete British bird app!



========= Our Bird Apps =========

We have been making apps since the App Store started in 2008, and now have a range of bird and bird song apps for all iOS devices - iPhone, iPod Touch, iPad & Apple Watch.

--------------- Chirp! ---------------
Chirp! is specifically designed for the identification and learning of birdsongs.


----------- ChirpOMatic -----------
ChirpOMatic is our automatic ('shazam-style') birdsong ID app.


---- Bird Guide Pro & Pocket Birds ----
These are our reference bird guides, with photos, sounds, notes etc, plus features for recording sightings. Bird Guide Pro is our top-of-the-range app, while Pocket Birds is the budget version.


========= About us =========

We aim to do business in an ethical way. We are truthful in claims about our apps and we do not pay for reviews. If you think that our behaviour ever falls short of the mark, then please let us know.

To keep up with the latest news or to get in touch:
Find out more: http://www.spinysoft.co.uk
Find out more (Bird Guides, Butterfly Guides): http://www.spinysoft.co.uk/BirdGuides.html
Find out more (ChirpOMatic): http://www.chirpomatic.com
Twitter: twitter.com/iSpiny
Facebook (Nature Guides): www.facebook.com/ispinynatureguides
Facebook (Chirp! & Chirpomatic birdsong apps): www.facebook.com/chirpbirdsongs

Shazam® is the registered trademark of Shazam Entertainment Limited and is not affiliated with iSpiny in any way.